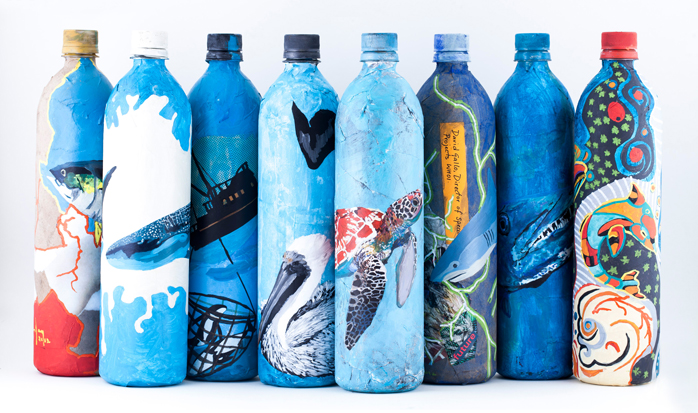 Message in a Bottle, is a conceptual, collaborative campaign that offers individuals who hail from a variety of disciplines the opportunity to express their concerns for Planet Ocean through creative media. This endows marine conservation with a unique united front from which distressed denizens can address the long-term welfare of the primordial soup that gave rise to all life on Earth.
The installation initially embraced kindred spirits and cherished friends personally known to creative conservationist Asher Jay, the founder of Sea Speak Sphere but has since expanded its role to integrate participation from concerned citizens worldwide through social media and its official website: seaspeaksphere.com"
Like the first 100 voices, the people who elect to get involved in this effort can be from any background or professional path so long as they own their voice and want to use it to aid marine conservation efforts. The renowned "Ocean Voices" on board currently encompass individuals with distinguished careers that span from but are not limited to: photography, science, art, music, film, diving, writing, activism, conservation, sports, exploration, journalism, news anchoring, public speaking, inventing, curating, culinary arts and fashion.
"Message in a bottle was created to commemorate World Oceans Day, June 8th 2012.
The art installation offers discrete vessels in the form of hand painted plastic PET bottles (post-consumer waste) to an eclectic portfolio of enterprising individuals who have unconditionally pledged their energies, cognitive faculties, personal funds and lives toward the conservation of the world's oceans so they can channel their respective messages to a broader audience through my art. Some of the voices I have elected to include are more interdisciplinary in their approach but still care tremendously for the planet's 70%. Each bottle has been custom illustrated to augment the specific voice represented by it and is displayed as a mobile object. The bottles are independently suspended from the ceiling by rope made out of braided post-use plastic shopping bags." – Asher Jay
Asher Jay owns the copyright to her own bottles, and she will continue to illustrate and add more voices to her installation, but she strongly encourages concerned citizens worldwide to send in their own bottles, which will duly be credited to them on SeaSpeakSphere.com.